Anna Castelli Ferrieri
Italy
One of the few successful women in the Italian design field, Anna Castelli Ferrieri is the embodiment of the Italian creative philosophy that advocates designing "from the teaspoon to the city." Castelli Ferrieri has contributed designs to both.

Trained at the famed Milan Polytechnic Institute as an architect, Castelli Ferrieri worked in the office of the postwar rationalist Franco Albini, who became a role model for her. Castelli Ferrieri started designing for Kartell in 1966, after being chosen as the architect for their headquarters. Famous for its critical role in the introduction of plastic as an acceptable material into the consumer market, Kartell was founded by Anna's husband-to-be, Guilio Castelli. Castelli Ferrieri became intrinsically linked to the company both as a designer as well as its Design Director, instrumental in bringing such innovative designers to Kartell as Joe Colombo, Marco Zanuso and Richard Sapper, and Achille Castiglioni.

In her own designs for Kartell, Castelli Ferrieri exploited new materials through innovative forms. For her "4970/84" container elements, Castelli Ferrieri treated the design as a mini architectural exercise, with the units stackable and interchangeable based on the needs of the new lifestyle of the 60s. For her beautiful and useful designs, Anna Castelli Ferrieri has won numerous design awards, including the prestigious Compasso d'Oro, but the fact that most of her designs are still in production bespeak the highest praise.
Designer Examples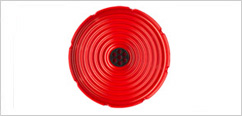 ashtray, 1979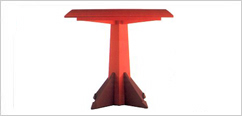 plastic table,1982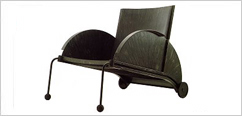 armchair, 1989