Fattorini + Rizzini + Partners
Italy
Fattorini+Rizzini+Partners designs contemporary furniture for Italian and International companies. Founded in 2009 is the result of the crossing paths of Bruno Fattorini, President, a history in the furniture entrepreneurship + Robin Rizzini, Chief Designer, a history in contemporary design furniture + Lucio Quinzio Leonelli, Managing Partner, a history in the management of furniture manufacturers.

Fattorini+Rizzini+Partners develops all furniture elements forming the creative design, Design Concept, together with its product variables, Product Concept. The Design team defines the aesthetical and functional content of the product. The Management team assigns the positioning, the supply chain, the price target. The outcome is a design project that goes beyond the product: integrated design philosophy.
Italian roots with an International vision. The studio has its base in Milan and designs for companies in Europe and the United States of America. The Design team consists of talented young designers from different countries, led and coordinated by an Italian Chief Designer. Different DNA's with a guide Made in Italia.
Design Concepts created around people's needs with a clear vision on the real use of products. Design and product specifications of the product are defined with respect to its function and purpose. The formal language is contemporary. Design concepts created to respect of the relation between objects and volumes, in a continuous dialogue with the architecture. Products designed according to the typical layout of the residential, contract and cross-worlds.
Fattorini + Rizzini + Partners designs with no restrictions to creativity and enhances its projects verifying the production model and the target market. The aim is to design a product with a clear positioning and a consistent design. The Management team consists of a structure dedicated to the marketing variables analysis and the study of the supply chain operating with methodologies inspired by mass consumer markets.
Product concepts verified through a marketing mapping model, which identifies the design code, the technical features, the work habits, the price positioning. Product concepts verified through the identification of the supply chain, the production costs and the research applied to materials and processes.
Designer Examples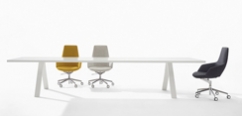 Tavolo Cross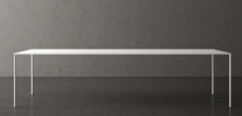 25 Table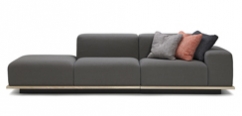 Meet